History and Site Closure
The Harlem Valley State Hospital opened its doors on April 24, 1924 where the majority of its buildings were constructed during 1920's and 1930's. Operations at the center peaked in the 1950's with a total population of 10,000 people on the site.
The New York State began downsizing the facility in the 1970's, and officially closed on February 1, 1994 after it operated for almost seventy years. The closure caused the loss of a 45 million dollar payroll, with the Harlem Valley region being hit hard by the loss of its major employer, along with the nearby Wassaic Development Center.
Search for New Users and Dover Knolls Project
Community leaders immediately began working on strategies to reuse the properties, but faced challenges in finding new users for close to a decade.
In 2003, Benjamin Companies, whose development portfolio totaled $2bn, purchased the property and launched the development project with the name: "Dover Knolls project." The project was conceived as a community of 1,376 dwelling units, retails, and community center, and would have led to the demolition of almost all 1.77 million square feet of buildings, which would have had a significant environmental impact.
After going through extensive environmental studies, and despite opposition from local residents, the project was approved in 2010. However, the property was left undeveloped for another decade.
Dover Greens Project – Development of Educational, Research Center and Christian Mission Hub
Dover Greens LLC (fka Olivet Management) acquired the property in July 2013.
The Dover Greens, which is the current development company, envisions the project to accommodate educational facilities, Christian non-profit organizations, and a Technology/ R&D Center.
The Dover Greens property is nestled in a region with miles of natural beauty, surrounded by mountains and rivers that run through it. Dover Greens began to develop the area that was previously dormant for two decades, using its existing buildings and infrastructure, which will bring economic growth to the region and provide new job opportunities.
Welcome by Town and County Leadership
In 2013, after the acquisition of the property, the Town of Dover leadership visited Olivet University's New York City location at 6 Barclay Street, and expressed the desire for the property to be developed into educational, research and IT center that will bring economic growth, and employment opportunities into the area that was economically depressed for decades.
Olivet's representatives also visited the Town Hall and introduced themselves to the town's officials and accepted the invitation to develop the abandoned property. After a decade of looking for a suitable user and another decade of an unrealized development plan by the previous developer, hopes of the community for redevelopment of this significant property in the town had been crippled. Dover Green expressed its long-term commitment to promote, invest and rebuild the area with enthusiasm.
Welcome by Town Residents
The very first introduction of the Olivet University and Dover Greens project to the Town residents was made at Dover High School. A fully occupied auditorium with over 350 residents was evidence of the high interest and desire of the locals for the redevelopment of the site.
Several members of team presented the project, which was met with excitement, hope and a warm welcome – including a standing ovation, and then followed by an interactive questions and answers session.
Campus Restoration – Extensive Grounds Cleanup
After a warm welcome to the Town, and discussions with the planning and building department, a need for exterior cleanup of the site was established and a work plan was agreed to. Several weeks of extensive landscaping and other works throughout the site resulted in significant visual improvements and signified the first steps towards the restoration of the vacant facility.
The multi-million dollar cleanup included the installation of new turf at the baseball field, earth works for a new amphitheater, repavement of roads and restoration of sidewalks and streetlights, installation of town and national flags and new signages.
Evangelical Center Dedication
The Evangelical Center (EC) was first established on December 9, 2010 in Kirkwood, NY, to serve as an "information hub" where the makeup, growth, and impact of Christianity could be studied and a place to gather and disseminate resources to churches worldwide. Now based in Dover, NY, the Center will continue this work with expanded opportunities for training and education of emerging leaders from across the world.
The Evangelical Center in Dover, NY was dedicated on January 15, 2016 in the presence of national and international leaders from the World Evangelical Alliance (WEA), local residents, Town, County and State representatives. WEA celebrated the opening of its new Evangelical Center in Dover, NY, with a ribbon cutting ceremony, inauguration service and dinner. The property will host international conferences, meetings, and training programs and serve as a center for evangelicalism worldwide.
In the summer of 2017, WEA kicked off the pilot run of its Fellowship of Emerging Leaders (FEL) program hosted at the Evangelical Center in Dover, New York. The 12-week program ran from June 6 to August 25 and equipped younger leaders from different countries to serve more effectively in their respective National Evangelical Alliances. It was a unique opportunity for them to capture a global vision of the Evangelical Alliance and its transforming impact at the local level.
Evangelical Center hosted numerous meetings and events for WEA leadership including special lectures on human trafficking and religious persecution.
To date, full time staff continue to work at the Evangelical Center to fulfill various administrative works to serve global Christianity.
Settlement with Osha
On March 28, 2016 The U.S. Department of Labor's Occupational Safety and Health Administration has agreed to a settlement with Dover Greens.
In October 2013, Dover Greens employees and contractors performed cleanup operations in preparation for a tour of the site by potential investors. The work, which was directed and overseen by Dover Greens supervisors, never included intentionally removing asbestos and lead-contaminated debris, according to company officials. Dover Greens maintains that no construction or remediation efforts requiring permitting commenced during that time, and that none of its cosmetic-related activities could reasonably expose any worker to harmful levels of any hazardous substance.
Nevertheless, Dover Greens has settled with OSHA and has agreed to pay $700k as an investment to ensure future worker safety, including health and environmental awareness, for the restoration of the former State-owned facility.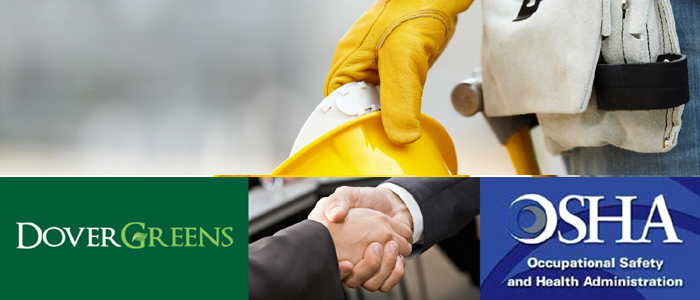 SEQR and Site Plan Approval
On August 15, 2016 completion of an Environmental Assessment (EA), answers to an extended list of town comments and months of dialogue between Dover Greens and the Town of Dover Planning Board have led to the SEQR (State Environmental Quality Review) determination that the Dover Greens project will not have any significant adverse environmental, social or economic impact on the Town of Dover or its surrounding area.
The determination of non-significance or what is often termed a "negative declaration" was issued on August 15, 2016 at a public hearing at the Dover Town Hall.
Just about a month after receiving a determination of non-significance or "negative declaration" during the SEQR process, the Dover Greens project has been given the go-ahead to proceed with Phase I of its construction plan.
Specifically, an application to receive conditional approval for site plan, special permit, erosion and sediment control permit and architectural review board approval for Phase I of the Dover Greens Project was unanimously approved by the Town of Dover Planning Board.
Environmental Assessment and Site Plan documents can be found in the Master Plan section of our website.
Buildings and Infrastructure Restoration
Following the SEQR and Site Plan approval in late 2016, Dover Greens immediately started to put its focus on construction. Renovations were performed on several buildings and included environmental remediation, new windows installation, roof repairs, replacement of building systems including mechanical, electrical, plumbing and fire protection, as well as brand new finishes for walls, ceilings and floors.
Currently, 8 buildings on the campus have been fully renovated and occupied, with plans of adding more every year. Dover Greens also continues to make gradual improvements to its infrastructure systems.
Classes on the Campus
Currently, there is a Master of Divinity program offered to students on the campus.
The program is designed to prepare future ministers for real-world church planting and specialized ministry in twenty-first-century Christian missions. This program provides students with core biblical and theological instruction, leadership training, as well as a range of the skills necessary to perform ministerial duties in the local church. In order to train future pastors ready to face today's dynamic world with specific ministry internship experience, Olivet's M. Div. student can choose their concentration, such as marketplace ministry, Nehemiah ministry, media ministry or church planting. Being the entrance qualification for ordained ministry, the Master of Divinity degree seeks to prepare and equip its students for a fruitful life in ministry. Distinguishing it from other programs Olivet's M.Div. program has created a format to integrate theological, biblical, and mission-critical practical
work experience.
The Masters of Divinity degree is offered in collaboration with a number of affiliate ministries and mission-minded companies collocated or in close proximity to the university campus locations. It can be taken either as a stand-alone program or as part of a dual degree option with an applicable master's degree from another school at Olivet University.
A portion of the Chapel building is utilized by Olivet Academy, a private, chartered school providing K-12 education. Olivet Academy's school philosophy and curriculum emphasize the education of the whole child by delivering a faith-based curriculum with a progressive approach to teaching and learning. Students engage in project-based learning where teachers subscribe to a constructivist philosophy honoring the prior knowledge children bring to every learning experience and providing opportunities for them to build on their understanding and teach others.
Olivet Academy uses the Bible study curriculum developed by Olivet Seminary. The program will consist of 40-60 minutes daily (based on age) dedicated to teaching faith-based lessons to the students. The focus will be on guiding the students to receive a firm foundation of Christian teaching from the Bible in a relatable and entertaining setting. The program will offer opportunities for children to attain age-appropriate concepts and skills from a Christian standpoint. This will be accomplished by providing a variety of activities and lessons depending on the students' grade level.
Renderings, Programming, Architectural and Engineering Plans
Dover Greens has been undergoing the process of architectural and engineering planning and design for the buildings in the project's Phase I. They include various programs such as classrooms, dormitories, assembly hall, library, cafeteria, and gymnasium.
Dover Greens works with its retained designed team to ensure all of the buildings are brought up to current building code requirements and meet the needs of desired programs of the University. Dover Greens members of the building design team are also certified building code enforcement inspectors.
A separate team of civil engineers and planners continue to work on the construction level of details for site improvements including new sidewalks, roads re-pavement, running track and sport fields as well as infrastructure improvements including water, sewer, electrical systems and storm water management.
Connecting with Town, County and State Leaders
Dover Greens has been actively providing updates and progress reports to town, county and state leaders about the project. Numerous meetings with county executive and sheriff's office, interaction with district senator and assemblyman keep officials informed about the works and plans of the project and provide opportunities to discuss important aspects of the development and learn more about the community situation and needs.
Dover Greens received unwavering support and encouragement.
Marcus Molinaro, Dutchess County Executive, shared: "Dutchess County is very excited to welcome Dover Greens to Eastern Dutchess County. This corridor has been so critical to our community. To see the partnership and great investment opportunity that will present themselves — very, very exciting to us. On behalf of the people in Dutchess County, on behalf of our community, welcome. We look forward to working together. We look forward to cooperating together. We look forward to building new relationships together."
Dutchess County Sheriff, Butch Anderson encouraged Dover Greens representatives, saying: "It is good to see young, energetic people come into Dutchess County with new projects that will only help all the people who live in the county."
Community Involvement
Dover Greens seeks to be a good neighbor in the community and gradually participated in various activities and events supporting the community including Dover Day, cleanup of the Town on Earth Day, providing a golf course for PE classes for Dover High School students and the performances at Town's Christmas tree light-up.
Most recently Dover Greens and Olivet University hosted and sponsored an event where nearly one hundred friends, neighbors and staff gathered at the Olivet University West Campus Golf Course for the 1st Annual Dover Charity Golf Tour Championship. The organizations and friends supported by the charity event were Dover High School, the Dover Plains Library, the H. Ketcham Hose Company, The Center of Compassion and the Vincent Family.